Amplify Arts: Artist Market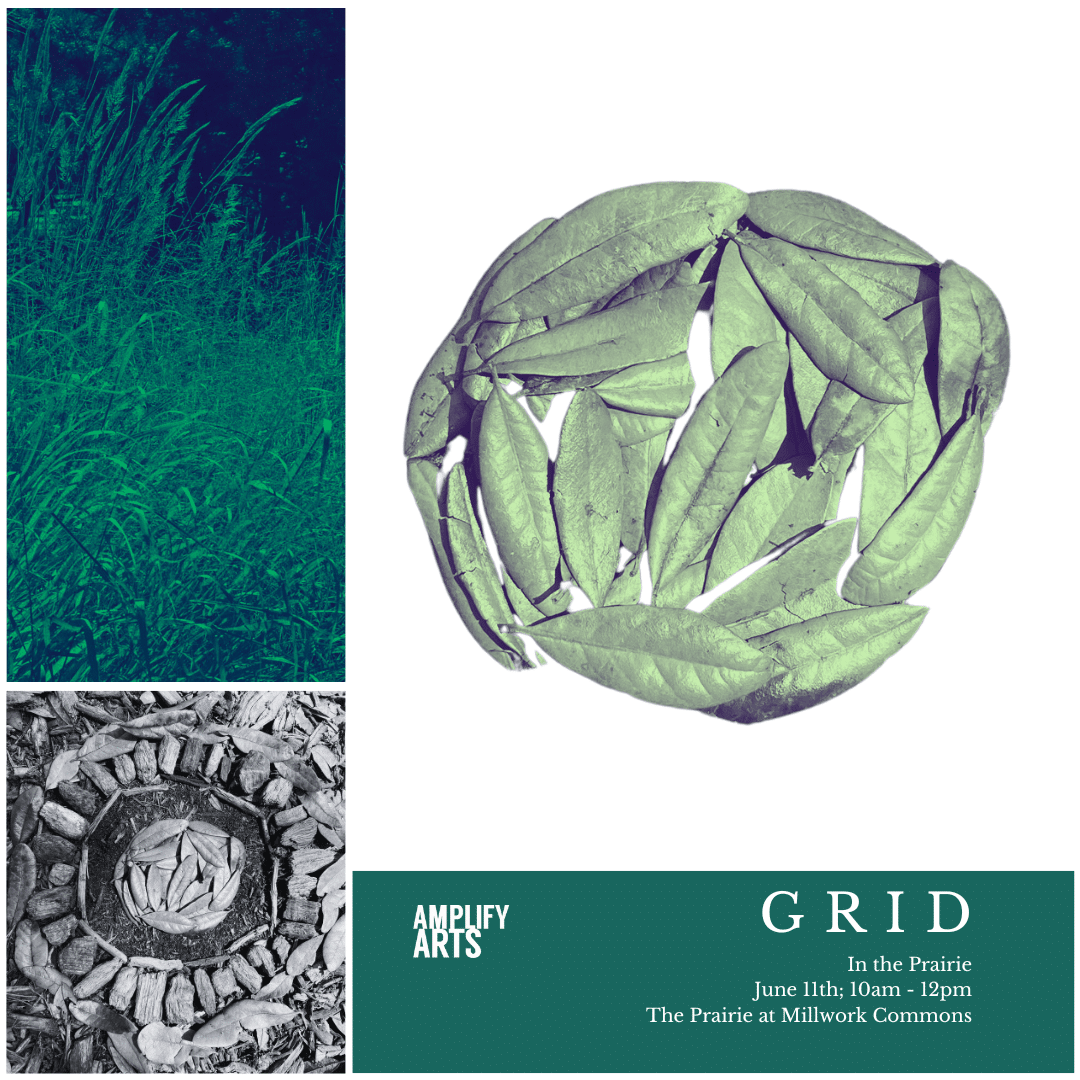 GRID in the Prairie
Join us Sunday, June 11th from 10am – noon for GRID in the Prairie, an outdoor artist market in the Prairie at Millwork Commons. An incredible group of Amplify's current and former Artist Grant recipients and program participants working at the intersection of art, ecology, and regenerative agriculture will share their work and lead activities for all ages like weaving, flower pressing, and a botanicals raffle.
Spend a morning in the sun with Blazing Star Seed Cooperative / Free Farm Syndicate, Michaela Ciulla, Clarice Dombek, Omaha Sunflower Cooperative, Ami Polite, and Joelle Wellansa Sandfort; support their work and see first-hand all the good these artists and organizers are growing.
Free and open to all, this is an outdoor event that includes periods of walking and standing. Masks are always welcome. The Prairie at Millwork Commons is ADA compliant and wheelchair accessible. Millwork Commons is a short walk from the Route 4 Metro city bus stop at 16th and Cuming Streets. If you're driving, free parking can be found on Millwork Ave, 13th St, 12th St, the parking Lot North of HELLO Apartments and the parking Lot West of the Mastercraft building. More information about parking and a map of the neighborhood can be found here.
About the Artists:
The Blazing Star Seed Cooperative (BSSC) is a collection of urban farmers, home gardeners, and community organizations that work together to grow, save, and share as much locally produced seed as possible. BSSC's goal is to provide education and Infrastructure for a more robust seed saving culture in Omaha (and the surrounding area).
Free Farm Syndicate believes that food should be grown naturally, sourced locally, and given freely. FFS is a syndicate, meaning that we produce and distribute produce for a common goal: to fill food gaps in our community. Not all the produce we distribute comes from our production plots. Much of it also comes from partners, including both for- and nonprofit urban farms, other mutual aid gardeners, and neighbors.
Michaela Ciulla is a watercolor and multimedia artist living and working in Omaha, Nebraska. She draws inspiration from her environment, especially the plants and colors around her. She has a BA in Environmental Studies and took a few art classes in Omaha after graduating from UNL. She has been creating art from a young age and is happy to have the opportunity to share it with others. You can find her leading art workshops, vending at markets, and working from her home studio. Website: michaeladrawsflowers.com. Instagram: michaeladrawsflowers
Clarice Dombeck was born and raised in North Omaha. She received her undergraduate degree in Black Studies and Sociology from the University of Nebraska at Omaha. She is currently studying for a Master of Science in Urban Studies. She believes that her relationship with gardening began with her ancestors and uses her creative gardening practice to honor her grandmother Old Mae Walker who was a sharecropper.
Omaha Sunflower Cooperative's mission is to replenish, strengthen, and elevate the BIPOC community and the members of the cooperative with community-sustained nutritional and financial support. The Cooperative is committed to fostering holistic relationships between local BIPOC growers, farmers, and business owners to reclaim and cultivate our collective cultural wisdom. Since its establishment in 2021, the cooperative has held two plant sales, facilitated a seed starting wisdom share, and collectively cultivated land in Omaha and Cresent, Iowa.
Ami Polite is a private gardener for the best and the brightest in Nebraska, loving plants belonging to those who have busy lives. She is self taught from volunteering at Botanical and private gardens, as well as mentoring under a senior gardener until going off on her own journey. On a professional and volunteer basis, she has been involved in horticulture for 15 years (May is her anniversary month). Gardening is her joy and therapy and she writes to help others share that joy.
Joelle Wellansa Sandfort is an interdisciplinary artist living and working in Omaha, Nebraska. Using mostly secondhand materials and an experimental approach to traditional craft processes, she explores how cultural information is learned, inherited, and lost. Joelle graduated from Nebraska Wesleyan University in 2018, earning her BA in Art and Art Education Endorsement. She is a 2023 Amplify Arts Generator Grant Recipient and current facilitator of Fleabane Gallery.
Share