Millwork Conversations Presented by Google: Andy Stoll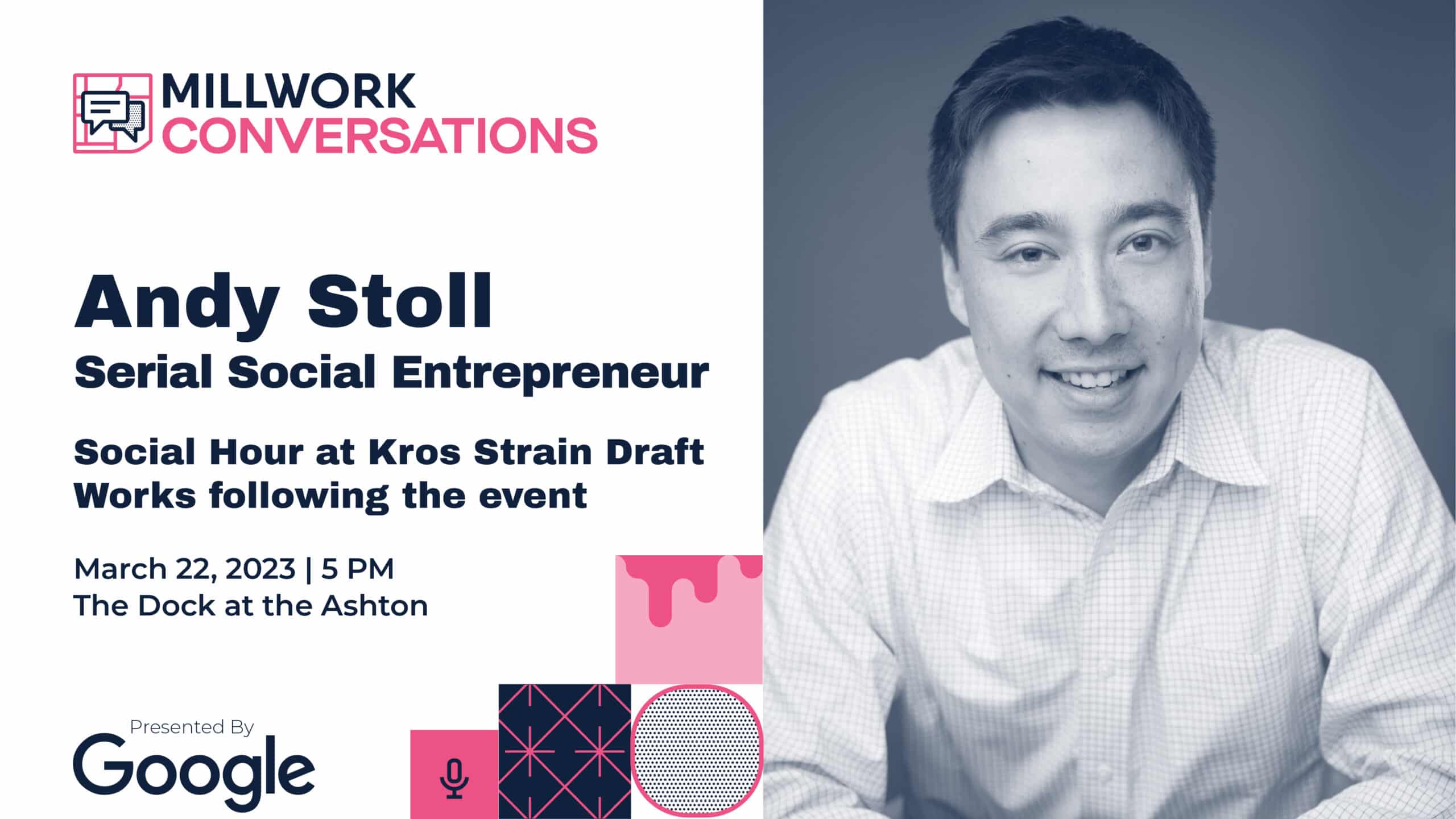 A gathering point for Omaha's creators, innovators, artists, thought leaders and activators.
Millwork Conversations is a happy hour chat between Omaha's creators, innovators, artists, thought leaders and activators. Millwork Conversations will provide an opportunity to learn from people across communities right here in Nebraska and across the country about new ideas and what's possible – how to push past real and imagined boundaries. Each month will provide an inspiring, memorable experience for attendees through compelling conversations.
Joining us this month is Conversation Leader, Andy Stoll.
Andy Stoll is a serial social entrepreneur and currently serves as a Senior Program Officer in Entrepreneurship at the Kauffman Foundation, where he manages a $25 million philanthropic portfolio aimed at strengthening America's entrepreneurial ecosystems.
Born and raised in North Omaha, with family roots in a small Japanese farming community in western Nebraska, Andy traveled throughout the U.S., but never had the opportunity to leave the country. Set on solving that problem, and with the desire to better understand how the world works, Andy set off on what would become a four-year, 40-country, solo trip around the world.
Inspired by learnings from his travels, Andy has founded six entrepreneur-focused companies over the past twenty years and is now a leading national voice on how cities can build more vibrant and equitable entrepreneurial ecosystems.
Andy's work has been featured in The New York Times, The Washington Post, and The Wall Street Journal, and his portfolio of work includes collaborations with AOL founder Steve Case, Microsoft founder Paul Allen, and former Zappos CEO Tony Hsieh.
Along the way, Andy has worked in Bollywood, lived in a mud hut village in Zambia, and produced a touring magic show. He moonlights as a photographer, sometimes chef, and occasional cooking class instructor.
Andy has recently returned to Omaha and will join us to share lessons he's learned on how entrepreneurs, creatives, and communities can survive and thrive in a 21st-century, hyper-globalized world.
Timeline:
5:00pm | Doors Open
5:10pm | Conversation Kick Off!
5:45pm | Q&A
6:00pm | Stick Around for a Social Hour with us in Kros Strain Draft Works
*Kros Strain's new Draft Works location is right next to us in The Dock at Millwork Commons!
Share