Millwork Conversations presented by Google | Jeffrey Collins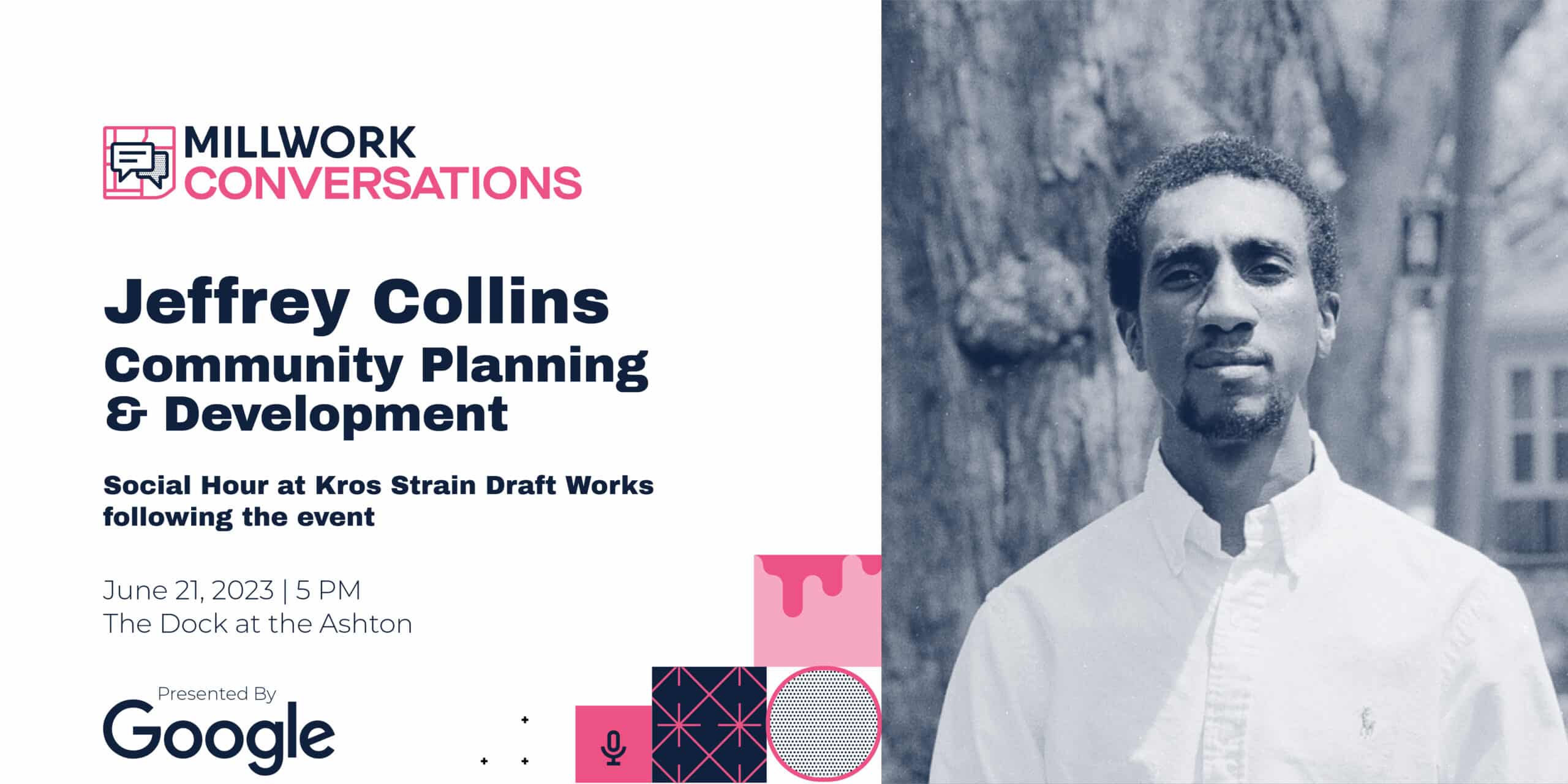 A gathering point for Omaha's creators, innovators, artists, thought leaders and activators.
Millwork Conversations is a happy hour chat between Omaha's creators, innovators, artists, thought leaders and activators. Millwork Conversations will provide an opportunity to learn from people across communities right here in Nebraska and across the country about new ideas and what's possible – how to push past real and imagined boundaries. Each month will provide an inspiring, memorable experience for attendees through compelling conversations.
I'm Jeff! I'm an individual with a diverse range of interests and a genuine thirst for knowledge. I'm driven by curiosity and have a deep love for exploring the world.
Originally born in Atlanta, GA, I've been visiting my grandparents since '92 and have been a resident of Omaha since 2001. Most of my time has been spent in North Omaha, attending Druid Hill Elementary and graduating from North High School. Coming from a large extended family that instilled a strong sense of family orientation, I cherish the connections and support that family provides. This upbringing has shown me the significance of strong community ties and drives me to actively engage with local events and initiatives, always seeking opportunities to connect with others and contribute positively to the community fabric.
In the art realm, I like to be involved in the community in any capacity, and I've been blessed with opportunities to truly be a part of it. I served as the CTO of Local Art Plug from 2021 to 2022, organizing the "Plugged In" NFT Show at Millworks in 2022. Previously, I had the pleasure of working at the Union for Contemporary Arts as an Art Club member and Teaching Artist. I've even been fortunate enough to share my artistic vision, as well as my fellow artists' visions, in two exhibitions so far: "Breathe" at Modus in 2021 and "Previously" at OuterSpaces in 2018. Currently, I sit on the Board of Amplify Arts.
Professionally, I graduated from the University of Nebraska at Omaha in 2014, earning a B.A. in Religious Studies. My professional career began as an intern with HUD in 2010, eventually transitioning to a full-time position in CPD in 2014.
Aside from my professional pursuits, I have cultivated a range of hobbies and half-hobbies. Whether it's "workshopping," engaging in 3D animation and art, pursuing "urban farming" (just a large-ish garden, really), or indulging in my personal love for film photography, I find ways to express my creativity and connect with the world around me.
I place great value on genuine conversations that lead to mutual learning and growth. I genuinely enjoy attending varied community events, where I have a chance to meet new people, exchange stories, and build meaningful connections. I firmly believe that by embracing diverse perspectives and actively engaging with the community, we can create a more inclusive and thriving environments for all.
Check out the past Conversations Podcast.
Share