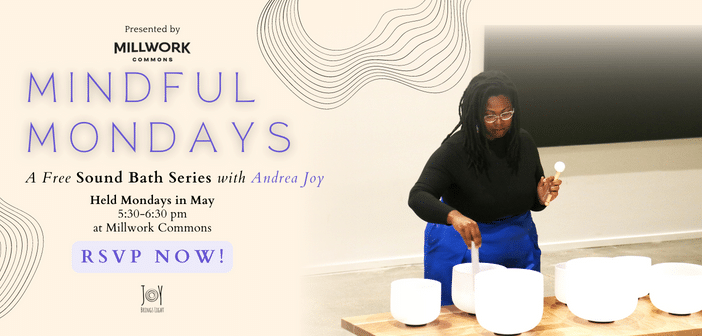 A May Sound Bath Series with Andrea Joy
Join us for a FREE  sound bath series hosted by Andrea Joy at Millwork Commons! May is Mental Health Month, which means looking around and looking within. From your neighborhood to genetics, many factors come into play when it comes to mental health. To help you get in touch with YOU, we're collaborating with Andrea Joy to bring meditative sound baths to you, free of cost. Andrea Joy will guide you through an artful and contemplative flow, that requires you to simply sit and listen.
Relax, recharge, and unwind with us on Mondays in May from 5:30-6:30 pm. Invite a friend for an evening of peaceful and meditative sounds and mesmerizing visual experiences. Bring a yoga mat and wear something cozy and comfy.  
WHEN: Mondays on May 8, May 15, May 22, June 12
TIME: 5:30 – 6:30 pm
It's open to anyone and totally free, we just ask that you RSVP to ensure there is a spot for you!
What is a Sound Bath?
A sound bath is an immersive meditative experience in which participants listen to various instruments, such as sound bowls and wave drums, being played in rhythmic and soothing ways to promote relaxation and healing. Sound healing can help you relieve stress and overwhelm, calm an overactive mind, and balance your energy. Learn More
Share