Millwork Commons is excited to welcome visitors from near and far throughout the College World Series. When making plans to visit Millwork Commons, please be aware of the following parking restrictions that will be in effect from Thursday, June 15th – Monday, June 26th. We appreciate your cooperation during this busy time!
CWS EVENT PARKING
Longer, day parking will be available for a fee in the designated Event Parking area.
We encourage visitors who plan to be at Millwork Commons longer than two hours or who are looking for CWS Event Parking to utilize this area.
DESIGNATED VISITOR PARKING SPOTS
Non-tenants visiting the Mastercraft or Ashton Buildings are allowed up to 2 hours of parking in designated Visitor Parking spaces only.
Those exceeding the 2-hour limit will be towed at the owner's sole expense.
Neither the Mastercraft Building, the Ashton Building, nor Millwork Commons is responsible for towed vehicles or personal property left inside unattended vehicles.
If you are attending a non-CWS event at Millwork Commons, please review event details for specific parking information related to that event.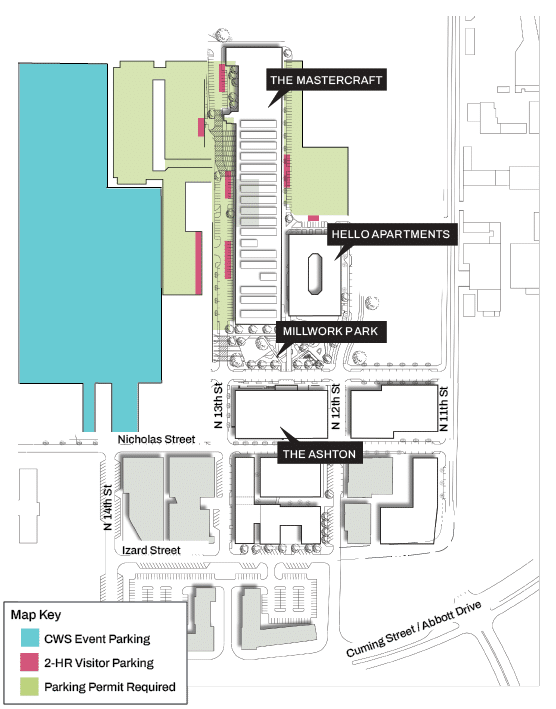 GUEST PARKING VOUCHERS
Those who require more than two hours of parking, must request a Guest Parking Voucher from the organization or business which they are visiting at least one business day in advance.
Guest Parking Vouchers do not allow for CWS Event or overnight or parking. Violators will be towed at their sole expense.
Guest Parking Vouchers are for one-time use only and are valid only for the date and times for which they are issued.
Guest Parking Vouchers must be visibly displayed, face up, on the dashboard of the vehicle.
Those with Guest Parking Vouchers should not park in the Visitor Parking spaces.
TENANT & RESIDENT PARKING
Millwork Tenants and Residents should park in the designated parking area on the west and east side of the Mastercraft Building.
Please have parking permit displayed on rearview mirror.
Do not park in designated visitor parking when you have a permit – you will be towed.
Permits for tenants and residents were distributed in advance by property management.
Share