As it builds on the energy and momentum of Downtown Omaha, Millwork Commons is set to become one of the city's most vibrant neighborhoods, blending the authenticity of the city's industrial roots with the vitality of today's innovators and creators.
With over 60 companies and nonprofit organizations located in the repurposed Mastercraft Building, and Nebraska's fastest growing company, Flywheel, moving to the historic Ashton building, Millwork Commons is a hub for tech, art, design, and community growth. The neighborhood will also include a variety of housing options as well as distinctive businesses such as coffee shops, a brewery, a dessert shop, wine bar, dining, and services. A long term goal for Millwork Commons is to strengthen Omaha's urban core and help define the city as a culturally vibrant and inclusive place. Public art and dynamic public spaces will be essential components of the community. The development of Millwork Commons is led by Paul and Annette Smith of Black Dog Management, an investment firm focused on strategic partnerships in real estate and property investments in Omaha's urban core with a belief in making inspiring places to live, work, connect, explore, and unwind. We are passionate about creating an inclusive community. We believe diversity drives innovation and better solutions so we are building a culture where differences, multiple approaches, and points of view are encouraged, supported, and valued. We embrace diversity and partner with organizations and individuals who do the same.

In 2020, we formed an Advisory Council of business and community leaders who are as passionate about making Omaha an even better city as we are. Our advisors have expertise across industries, community needs, and our neighborhood. They provide the Millwork Commons team with diverse perspectives and guidance, especially on major initiatives and long-term strategy.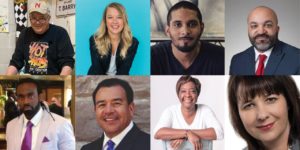 Millwork Commons Advisory Council Members:

Tim Barry President, Hot Shops Art Center

Karen Borchert COO, ROKA

Manuel Cook Community Organizer & Urban Planner, City of Omaha

Dr. Dell Gines Senior Community Development Advisor, Omaha Branch of the Federal Reserve Bank of Kansas City and National Expert on Inclusive Entrepreneur Ecosystem Building

Osuman Issaka President and CEO, The Simple Foundation

Taylor Keen Instructor, Creighton University Heider College of Business and Founder of Sacred Seed

Carmen Tapio President, North End Teleservices

Linda Twomey Executive Director/CEO, Siena Francis House
Our History of Innovators
This neighborhood has been known for innovation since the first bricks were laid over 130 years ago. And it will continue to be an authentic and diverse blend of innovators, creators and residents that help build the fabric of our community.