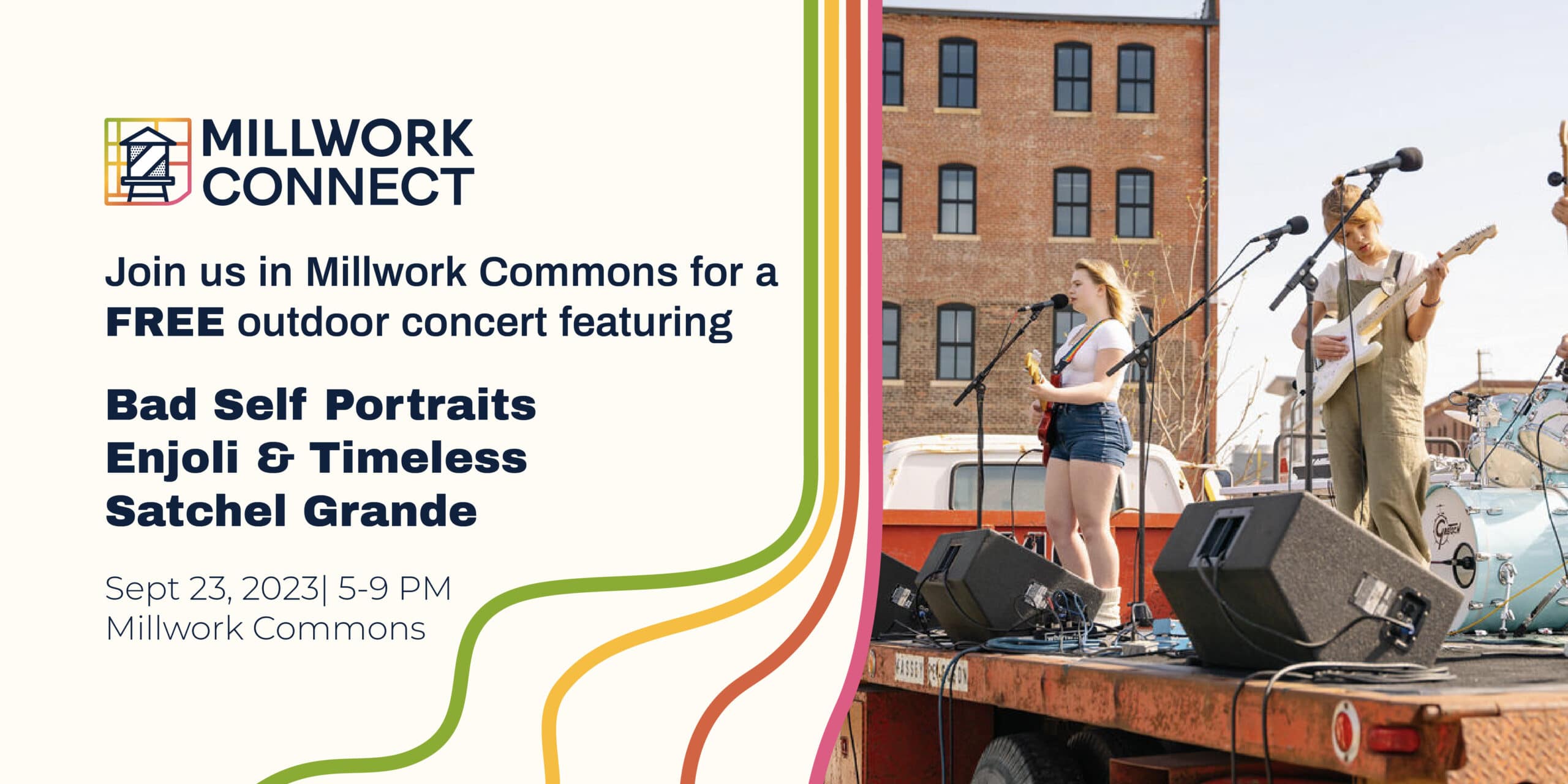 Join us in Millwork Commons
for a FREE outdoor concert on September 23rd from 5pm-9pm. You'll hear music from Bad Self Portraits, Enjoli & Timeless, and you may have heard of our headliner: Satchel Grande!
There will be beer, live music, and an EXCLUSIVE TASTING PASS to try unique offerings from each of the amazing restaurants, breweries and bakeries that call Millwork Commons home!
———————
Food Tasting Pass: $35
Participating Food & Beverage Tenants:
Clean Slate: Your Choice of Slider: Fried Chicken, Smashburger, Mushroom Burger

Coneflower Creamery: Seasonal Tasting Experience

Kros Strain Draft Works: 5oz Craft Beer

Heirloom Fine Foods: Bacon Jam Arancini with Tomato and Herb Espuma or Tomato Jam Arancini with Pesto (Vegetarian) 

Sweet Magnolia's: Original Recipe Seasonal Cake Slice
———————
Mini Market Vendors: 
Spark
Hot Shops
Rabble Mill
Nodest
The Light Candle Co.
———————
5:00 PM | Bad Self Portraits
6:10 PM | Enjoli & Timeless
7:30 PM | Satchel Grande
———————
A product of high school and college friendships, Bad Self Portraits plays indie rock music that tackles the ups and downs of growing up and getting older. Through navigating and accepting change while always moving forward, the band is characterized by powerful, emotive vocals, crunchy guitars, and raw, honest lyrics.
Enjoli & Timeless is a live band and recording artists from Omaha, Nebraska. Humbly labeled by her fans as "The Voice of the City", Enjoli and her sultry vocals quickly rose to recognition after the release of her debut album called Set the Mood in 2013. After releasing her hit single Thinking, in 2017 Enjoli formed her R&B/Soul band, Timeless. Since its launch, Enjoli & Timeless has opened for artists like Pleasure P, Juvenile, Angela Winebush, CeCe Peniston, Keith Sweat, Donnell Jones, Lyfe Jennings, Grammy Award Winner, Lecrae and toured with the legendary rap artist, Twista. Enjoli & Timeless has performed in multiple venues throughout Omaha for live events, private occasions, concerts and festivals. This award winning ensemble dropped their first recorded single called #iWish in March 2019, and released their first album entitled All of The Above that following year. During the 2020 Presidential Election, Enjoli & Timeless had the prestigious honor of performing live at the Biden Harris Campaign for the historic District 2 of Nebraska.
All recorded works can be found on all digital media platforms like iTunes, Spotify, Apple Music and YouTube; which includes their music videos for Butterflies, Rather Be With You and iWish.
The gentlemen of Satchel have long since established themselves as Omaha's premier good time, funk, and party band. With shades and pimp mustaches, this nine-piece doesn't just take the stage, they own it. Keys, percussion, deep bass, clapping, fiery guitar work and sing-along lyrics make a Satchel show one to remember. The sounds owes a nod to both George Clinton and Steely Dan, yet Satchel manages to not only wear its influences on its sleeve but to also take those influences and turn them into something unique. As far as promoting booty-shaking goes, Satchel is the undisputed local king.
———————
Parking & Transportation:
Millwork Ave will be closed between 12th & 13th Streets during the event. Please access the parking lots available by the Mastercraft and HELLO Apartments using 12th & 13th street from Nicolas St. Click the image below for a Parking Map.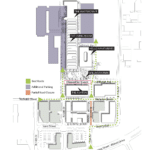 A Heartland Bike Share Station and Metro Transit Bus Stop are both available at 12th & Nicholas.
If you utilize your own bicycle, you may park it at the indoor bike room inside the dock!
Register
Share