Millwork Conversations Presented by Google | Dan Harbeke & Allie Hopkins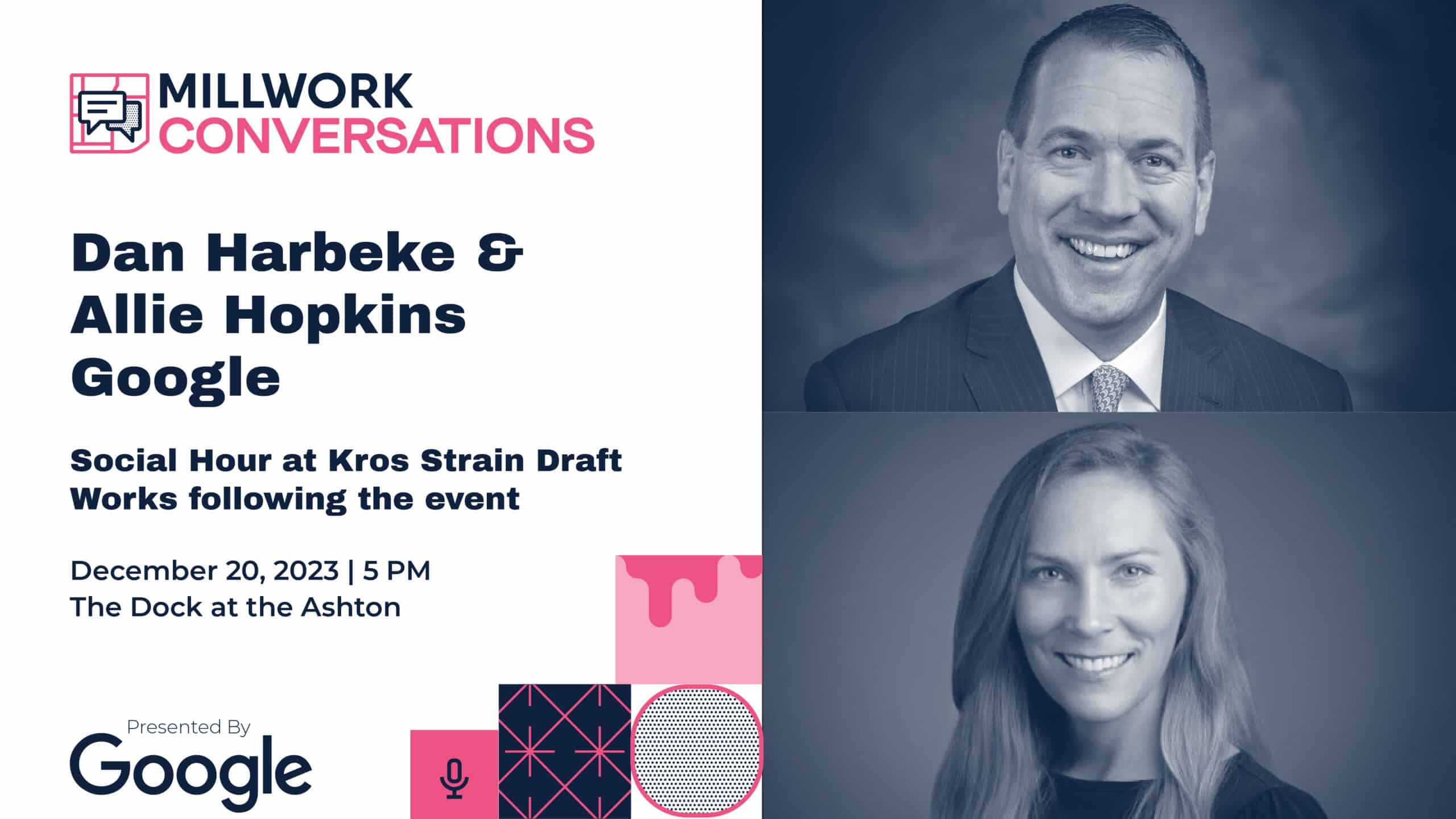 A gathering point for Omaha's creators, innovators, artists, thought leaders and activators.
Millwork Conversations is a happy hour chat between Omaha's creators, innovators, artists, thought leaders and activators. Millwork Conversations will provide an opportunity to learn from people across communities right here in Nebraska and across the country about new ideas and what's possible – how to push past real and imagined boundaries. Each month will provide an inspiring, memorable experience for attendees through compelling conversations.
Join us for December's conversation with local Google employees, Dan Harbeke and Allie Hopkins.
Dan Harbeke serves as the Government Affairs and Public Policy Manager for Google in the midwest.
Active in the community, he has served on the Young Professionals Council board of directors through the Greater Omaha Chamber of Commerce, is a past chairman of the Utah Foundation board of trustees and a past president of the board of directors for Keep Texas Beautiful, and has served on the board of directors for Junior Achievement of Utah and the Natural History Museum of Utah. Mr. Harbeke holds a degree in Marketing and Political Science from Creighton University, where he presently serves on the National Alumni Board, and is the proud dad of two beautiful girls, Elle and Emme.
Allie Hopkins,  is excited to be joining us, as well. With over 15 years of successful self-driven initiatives within the technical infrastructure leading teams with up to 30 staff members, Allie is a the Global Server Operations Area Lead at Google.
In her day-to-day, Allie oversees the application development and project management in a wide variety of network based applications. Lived in the layer between the physical network and the end user applications long enough to know that everything from the mouse to the data center is pertinent.
Google's mission is to organize the world's information and make it universally accessible and useful.
Timeline:
5:00pm | Doors Open
5:10pm | Conversation Kick Off!
5:45pm | Q&A
6:00pm | Stick Around for a Social Hour with us in Kros Strain Draft Works
*Kros Strain's new Draft Works location is right next to us in The Dock at Millwork Commons!
Check out the past Conversations Podcast.
Register
Share