Millwork Conversations Presented by Google | Linda Fleming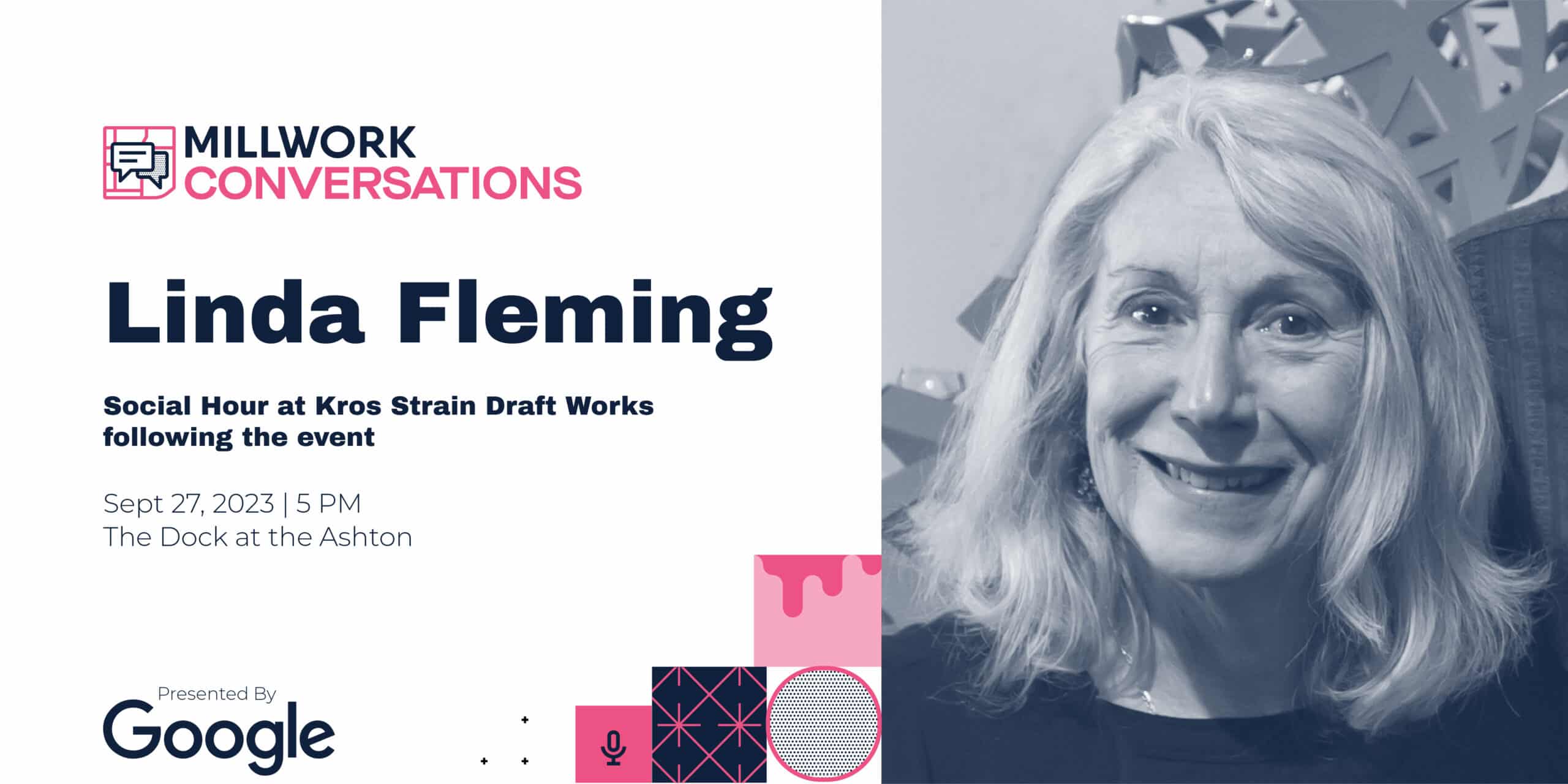 A gathering point for Omaha's creators, innovators, artists, thought leaders and activators.
Millwork Conversations is a happy hour chat between Omaha's creators, innovators, artists, thought leaders and activators. Millwork Conversations will provide an opportunity to learn from people across communities right here in Nebraska and across the country about new ideas and what's possible – how to push past real and imagined boundaries. Each month will provide an inspiring, memorable experience for attendees through compelling conversations.
Joining us this month is Conversation Leader, Linda Fleming. 
Linda Fleming creates places that are as much air as material: places of shadows and light where the viewer can sometimes become a participant by entering the sculpture. The intangibility of flowing gaseous materials, the shape that a sound might take, or a diagram of the wind are starting points made manifest in these constructions. They are molecular and galactic and attempt to coax the intangible into sturdy structures and durable materials that will not easily disintegrate as much of the work of women has throughout history. Physical sensation and perception are interdependent… the thing that is seen and the thing that is seeing conjure our world.
Experimenta de Vacuo Spatio brings together sculptures, drawings, and wall sculptures that embody 56 years of Fleming's thinking. Beginning with her first wall sculpture built in 1967 and exhibited at Park Place Gallery in New York, she incorporates multiple parts that create a whole. These discrete components evoke the particles comprising all matter and have been a constant thread in her work whether they are dense as they were in the 1990's or openwork as they are now. Fleming constantly questions a monolithic reading of reality and strives to evoke the presence of the many and the one.
Fleming's current work can simultaneously be seen from the outside as an object, from the inside as an interior architecture, and seen through to the world surrounding it. Some have two layers of color that also transform as your position changes, allowing the colors to mix in the mind's eye and become a hue that is not physically there. Glimpses of the environment seen through the openwork forms also become a part of the transforming whole. Her works are devices for seeing.
Fleming's practice draws from the desert and mountain environments surrounding her Colorado, Nevada, and California studios. She has received grants from the Pollock-Krasner Foundation, the Adolph and Esther Gottlieb Foundation, Art Matters, the Peter S. Reed Foundation, and the Athena Foundation. Her work has also been reviewed in numerous periodicals, including Art in America, Sculpture magazine, and The New York Times. Fleming's works are exhibited in major art museums and in public and private collections throughout the world.
See the opening of Linda Fleming's Experimenta De Vacuo Spatio exhibition at KANEKO Soirée on Friday, September 29. Fleming is one of five artists displaying their pieces at the Gene Leahy Mall Sculpture Garden. Her KANEKO exhibition will showcase her early and new works, exploring the themes of place, structures, and matter. It's an exciting opportunity to witness the juxtaposition of her creative journey.
KANEKO Exhibition Fall —Winter 2023-24
Linda Fleming: Experimenta De Vacuo Spatio
September 29, 2023, to February 2, 2024
Special Programming & Event announcements to follow.
Exhibition at KANEKO: Experimenta de Vacuo Spatio, KANEKO
Timeline:
5:00pm | Doors Open
5:10pm | Conversation Kick Off!
5:45pm | Q&A
6:00pm | Stick Around for a Social Hour with us in Kros Strain Draft Works
*Kros Strain's new Draft Works location is right next to us in The Dock at Millwork Commons!
Check out the past Conversations Podcast.
Register
Share