Call for Art: Video Wall + Art Activations at Millwork Commons
Art | News • October 16th, 2023
Millwork Commons and Amplify Arts have partnered to open a call for public art projects to create meaningful opportunities for engagement and connection in the neighborhood. There are two separate calls for art now open for the neighborhood. The deadline for entry is November 13.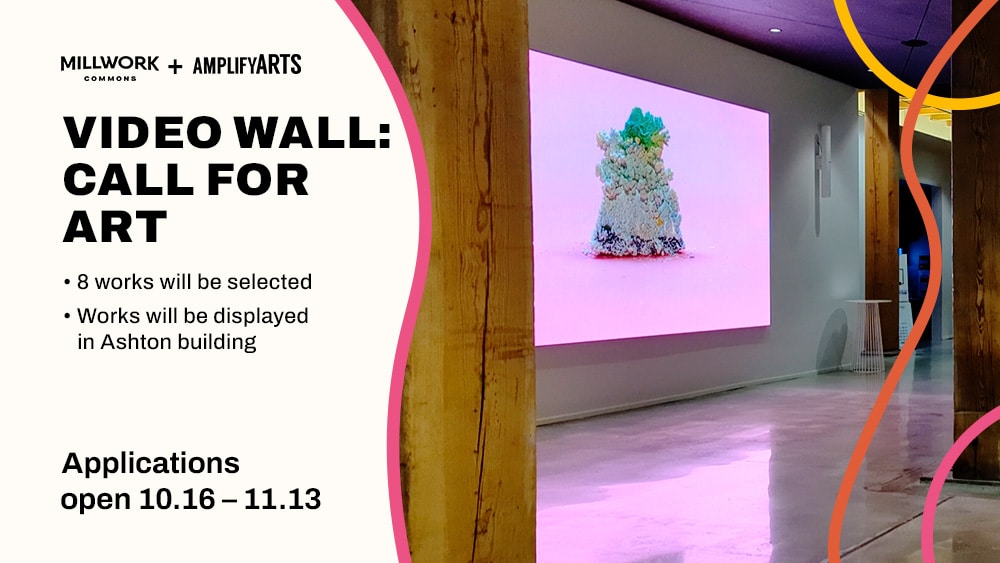 Video Wall
The Video Wall at Millwork Commons is a state-of-the-art, 9'x16' display screen projecting art and neighborhood announcements via a variety of images, videos, and content in the historic Ashton building located at 1229 Millwork Avenue in Omaha.
The Video Wall brings Millwork Commons' vision of tech and arts together for the district in a tangible way. It exists to be an ever-changing element that propels the work of creatives and technologists into the world. It serves as a platform for artists, allows for connection and collaboration with community organizations, and supports promotion of Millwork Commons events and updates.
Millwork Commons seeks to license eight existing works for display on their Video Wall. The works will be licensed for use in perpetuity, and featured on a rolling basis and in alignment with high-traffic events and happenings. Artists' work will be credited and promoted.
The ideal video:
is visually engaging, dynamic, and highlights the creative potential of video as a medium;
works well without sound;
is visually accessible, meaning it presents content in a manner that can be easily seen and/or understood by people with visual impairments;
does not include elements that may trigger photosensitivity such as high-frequency flashing, high-contrast patterns, and intense light sources.
Click Below for more information and to apply:
Video Wall Application (in English)
Video Wall Application (in Spanish)

Art Activations
Millwork Commons is seeking art activations that continue building the story of an evolving neighborhood for artists and innovators. The parameters for project proposals are flexible, notwithstanding considerations for care and safety, public access and engagement,
Proposals within the following parameters will be considered:
The project consists of new, public-facing work.
The project promotes public engagement. Public engagement can occur via process, presentation, production, or publication, which may include exhibition, performance, events, lectures, workshops, screenings, readings, etc..
The project can easily occur within the neighborhood's existing public spaces without disrupting daily activities. Daily activities consist of tenant open hours, coffee shop activity, and weekly meetups in front of the video wall area. Examples of public spaces within Millwork Commons include, though are not limited to, the Dock in the Ashton building and the Prairie.
The project is completed within the 2024 calendar year.
The project does not damage property or risk the safety of its artists, participants, or audience.
The project budget does not exceed $1,000.00. Project funds must fully cover costs associated with the research, development, creation, and/or implementation of new, public-facing work.
Click Below for more information and to apply:
Art Activation Application (in English)
Art Activation Application (in Spanish)
Have Questions?
Please email Lauren Martin (lauren@amplifyarts.org) if you have any questions, or if you need:
A paper application form.
A computer or wireless connection.
Help navigating Submittable, the application submission software.
A quiet space to work on your application.
Amplify Arts has partnered with Millwork Commons to host the call for public artwork proposals and manage applications in Submittable. Amplify staff do not evaluate applications but will offer decision making support and context based on applicants' responses to demographic questions within the application.
Click here to view the full Video Wall application evaluation rubric.
Click here to view the full Arts Activation application evaluation rubric.

About Amplify Arts
Amplify Arts is a nonprofit arts incubator for more just and equitable futures. We support area artists working to affect meaningful change with funding, space, and opportunities for collective learning. Because our position as an incubator provides a front-row seat to the challenges and obstacles artists face, we also advocate for opportunities, systems, and policies that create conditions for artists to thrive throughout our community.
Share