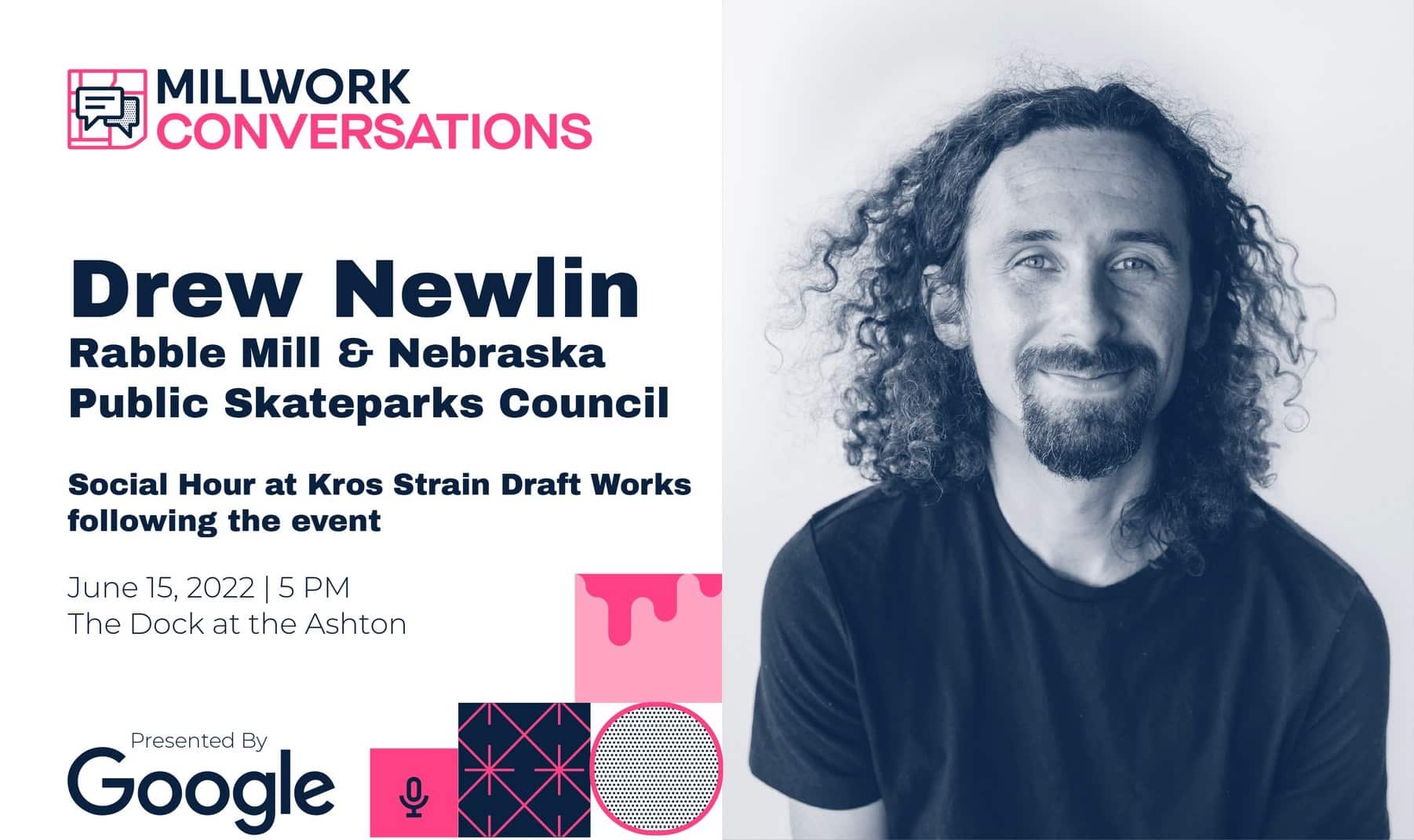 A gathering point for Omaha's creators, innovators, artists, thought leaders and activators.
Millwork Conversations is a happy hour chat between Omaha's creators, innovators, artists, thought leaders and activators. Millwork Conversations will provide an opportunity to learn from people across communities right here in Nebraska and across the country about new ideas and what's possible – how to push past real and imagined boundaries. Each month will provide an inspiring, memorable experience for attendees through compelling conversations.
Joining us this month is Conversation Leader, Drew Newlin
From carving around the drain of his grandparents' laundry room; to honing his first tricks on the hallowed gym floors of the former Salvation Army skatepark; to sketching the initial designs for our very own Millwork Skate Spot; Drew Newlin has seen his passion for skateboarding shape his life, career, and the lens through which he sees the world.
An avid, dedicated skateboarder of more than two decades, Drew can often be spotted cruising through Midtown and Downtown Omaha in search of the next concrete wave to ride, seemingly tuned out from the world and tuned in to the feeling – that limitless freedom of expression that's inherent to skateboarding and so many other creative disciplines.
Professionally, Drew serves as the Project Manager of Rabble Mill, a nonprofit that works with Nebraska youth statewide toward achieving the belonging, purpose, and upward mobility necessary to grow, achieve, and reinvest in their community. Through innovative out-of-school-time programs in Omaha, Lincoln, and across the state, Rabble Mill creates opportunities for youth to fall in love with skateboarding, music, and digital art, teaching transferable soft and hard skills along the way.
On top of this, Drew also serves on the board of the Nebraska Public Skateparks Council (NPSC), a newly formed nonprofit working to ensure communities statewide have skate spaces that are constructed with integrity to design, safety, longevity, and inclusivity. You don't have to look too far to see the impact of the NPSC's work – both the Millwork Skate Spot and the 20th St. DIY at James F. Lynch Park are typically swarming with skaters from all walks of life.
With an increasing understanding and appreciation of both the practical and intangible ways that skateboarding has shaped him, Drew is driven by turning our piece of "flyover country" into "roll over country," and raising the tide for skaters all across our beloved state.
The Details
This event is free and open to the public.
WHEN: Wednesday, June 15
WHERE: The Dock, located inside the Ashton Building – 1229 Millwork Ave, Omaha, NE 68102
The Schedule
5:00 pm | Doors Open – Coneflower Creamery Ice Cream!
5:10 pm | Conversation Kick Off!
5:45 pm | Q&A
6:00 pm | Stick Around for a Social Hour with us in Kros Strain Draft Works
*Kros Strain's new Draft Works location is right next to us in The Dock at Millwork Commons! PLUS if you're ready to keep your brain moving, you can join in on Trivia Night starting at 6:30 pm!
---