Space for creative collisions is more important than ever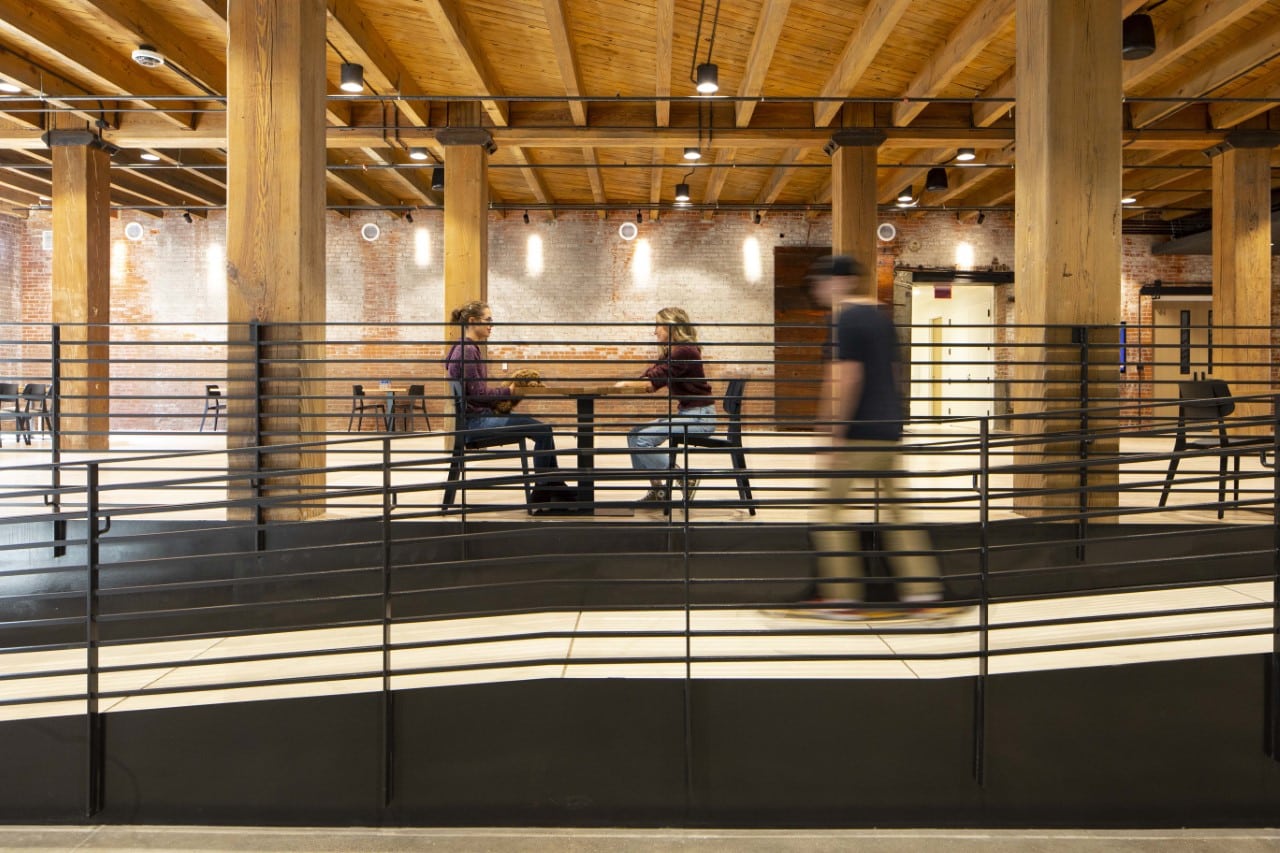 By Megan Lutz
Partner, AIA, NCARB, LEED AP
Alley Poyner Macchietto Architecture
Photo by Erin Giannangelo, APMA
In his February post, Jeff Slobotski talked about the need to socially and culturally support an "entrepreneurial ecosystem." By doing so, we will not only spur job creation and economic growth, but also seed a more diverse and creative business environment in Omaha.
In design we use the word ecosystem frequently – particularly when discussing neighborhood planning and urban design – and in the case of Millwork Commons it is a particularly apt identifier:
ec·o·sys·tem
A biological community of interacting organisms and their physical environment
A complex network or interconnected system
As architects and planners, we focus on the physical environment and ensuring the spaces we create actively support the needs and goals of residents, tenants, and visitors.
We also intentionally design places to ensure varied groups have abundant opportunity to contribute to the ecosystem through impromptu collaboration, or creative collisions.
If you've spent any time in the tech, development, or design worlds in the last five years, you've likely come across the idea of creative collisions. Go down a Google rabbit hole and you'll eventually identify early uses of the term from 2015/2016. It shows up in a venture capital blog, an application for an artist's residency, and a publication from CERN, the European Organization for Nuclear Research. It has since become shorthand for the unplanned, serendipitous meetings that happen when people's everyday activities overlap, and the innovation these conversations can foster.
These days the term is almost always used in reference to a physical space or event, like an office, a conference, or a neighborhood. As many of us have experienced this last year, it can be hard to extend our collaborative circles when our interactions are solely online.
But as we continue to work remotely, whether full or part-time, you may wonder where the future of this concept – the future of creative collisions – lies.
I'd argue it is more important than ever.
As the options for where and how we work expand, the quality of the spaces we inhabit— for working, living, or entertainment — becomes even more important. If you can work from anywhere in the world, wouldn't you choose a vibrant, inspiring neighborhood?
Density. Mixed-use. Varied scale. Active ground floors. Small blocks. Walkability. Curated tenants. Human scale. Active green spaces.
These design strategies work together to create great spaces, and we're using all of them in Millwork Commons. But while we are using every design tool possible to make sure Millwork Commons becomes the vibrant neighborhood we all envision, these are not what makes the neighborhood unique.
Those of us on the development team — from designers, to realtors, to the developers themselves – acknowledge that this neighborhood doesn't belong just to us. To create a truly special, innovative and equitable place, we must remain adaptable to change and welcoming of new ideas. Our definition of success is to be a neighborhood that reflects the hopes, aspirations and vision of those who reside within it.
We know that a truly great neighborhood isn't created by buildings, streets, or parks, but by the people that call it home, the culture they create, and the interactions they have with each other. The creative collisions.
To quote Jeff again, "right now, in this moment of change, we have the opportunity to build something different than what has been done before."
---