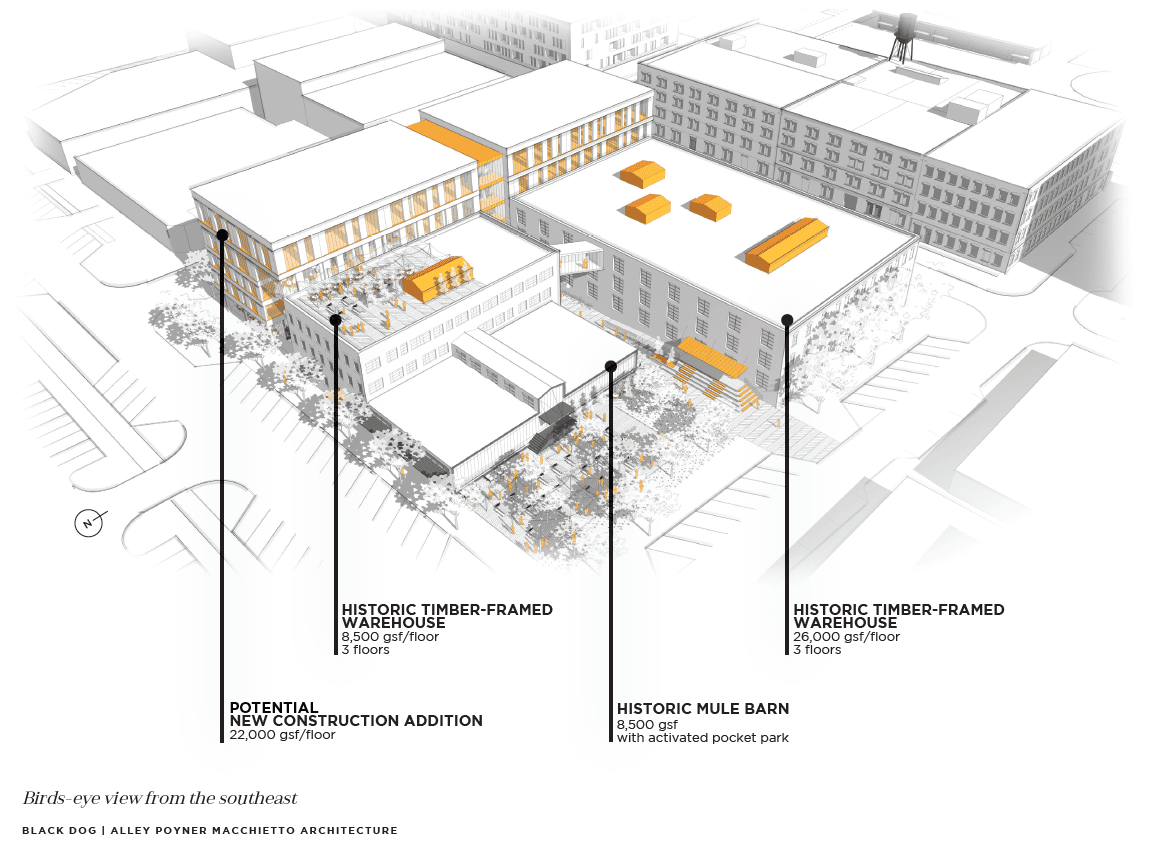 The Ashton and Mastercraft buildings have gotten most of the attention as we've worked on the first phase of the development of Millwork Commons. But the neighborhood is much more than just those two buildings. We thought it was time to introduce you to the other historic buildings that are part of the Millwork community, the Disbrow Block.
Located between 12th and 13th Streets, and Nicholas and Izard Streets, the Disbrow Block consists of three connected buildings: two three-story brick warehouses and a single-story building that was once used as a mule barn (we call it the Mule Barn). The Disbrow Block's brick buildings were constructed in 1886, making them nearly as old as the Ashton. The Mule Barn was added in 1921. The buildings housed M.A. Disbrow & Company, a millwork operation, for nearly 100 years. People working in the Disbrow Block were part of the bustling hub of millworkers and furnituremakers that made up the neighborhood.
Like the Ashton and Mastercraft, the Disbrow buildings will be restored and updated to provide innovative office space, housing, and opportunities for shops and restaurants. Initial plans appear in the drawing above.
The brick buildings have real wood floors and ceilings. A skywalk connects them, which provides an opportunity for one company to occupy the upper floors of both buildings and move easily between the two. Beneath the skywalk will be an activated alleyway called Disbrow Passage. In the space to the west of the buildings, there is room to add a new building with ground-floor retail that complements the existing architecture. To the east of the Mule Barn is green space that will be landscaped to become a beautiful outdoor place to gather, collaborate, or just enjoy the sunshine. It is currently home to The Keeper of Stories shipping container mural.
If you've seen the south brick building within the past couple of months, you may have noticed portions of the building's corners were cut away. No need to worry! The construction team has been replacing some of the brick and repairing the shell of the building in preparation for redevelopment. It will start to look like itself again soon! While the renovation of the interior and the start of new construction is still a way out, we are excited to explore the numerous potential uses for the Disbrow Block. If you're interested in learning more about these buildings, please contact Ryan Ellis at rellis@pjmorgan.com.
Share