The Keeper of Stories Mural
Art | Stories • November 5th, 2019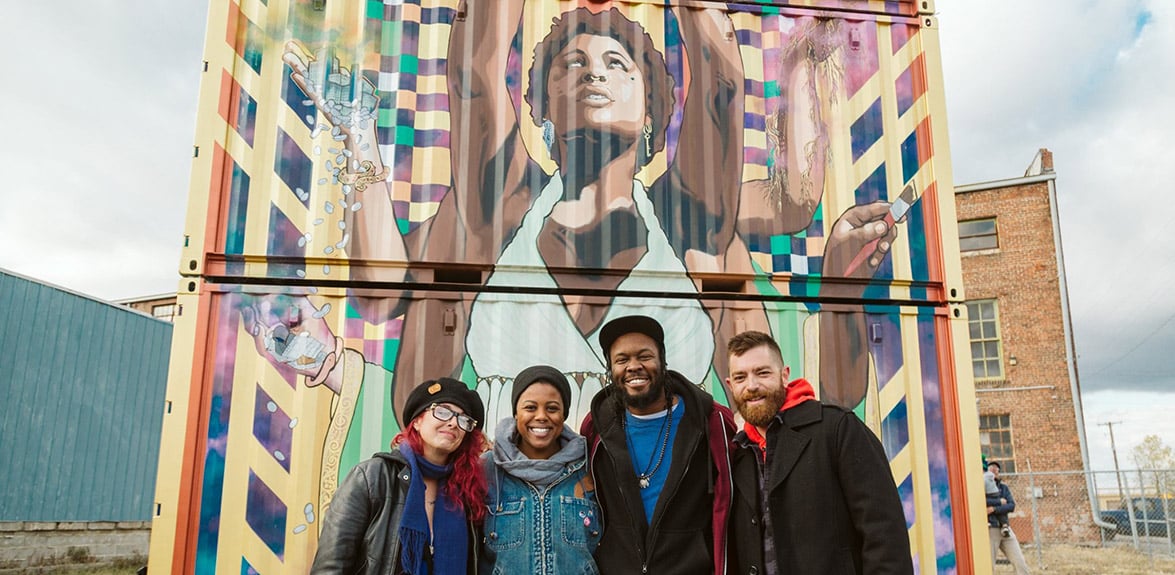 Over the summer, we began collaborating with Amplify Arts to bring the first outdoor public art to Millwork Commons. Public art has been part of the long-term plan for Millwork Commons since the beginning, but the Amplify Arts team helped us identify a creative, collaborative – and even movable – way to begin this year.
In July, we put out an open call to artists for proposals. The three selected artists would be given one month to develop a concept to present to a jury. Selected artists would also each receive a $6,000 stipend.
Artists Reggie LeFlore, Nicholas Miller, and norm4eva were selected to collaborate on the mural, which spanned three shipping containers measuring 500 square feet each. The original vision was for each artist to paint one shipping container that, when stacked, would create one cohesive piece. However, the three selected artists had such distinct styles, they decided to all work together on all three pieces – and the result is stunning!
Each week we got to watch the Mural Collaboration come to life at 12th and Nicholas Street as the artists combined their styles to add depth and detail. More of the story emerged with each day of painting.
On November 1, we held a public celebration for the mural. Reggie, Nick, and norm shared their vision with guests as well as some comments on how they worked together on it.
The mural, named The Keeper of Stories, represents a collection of "legends, knowledge, and wisdom" spanning generations.
"Throughout the collaborative process we have developed this narrative to go along with our piece and help tell all of our individual stories. We are viewing the stacked containers as a full-size book, with binding and pages running down the side," said Nick.
We're so grateful to everyone who came together to take the mural from an idea to reality.
You can visit the mural any time you're in the neighborhood!
Photo credit: Kimberly Bailey
Share