Our Goals for Sustainability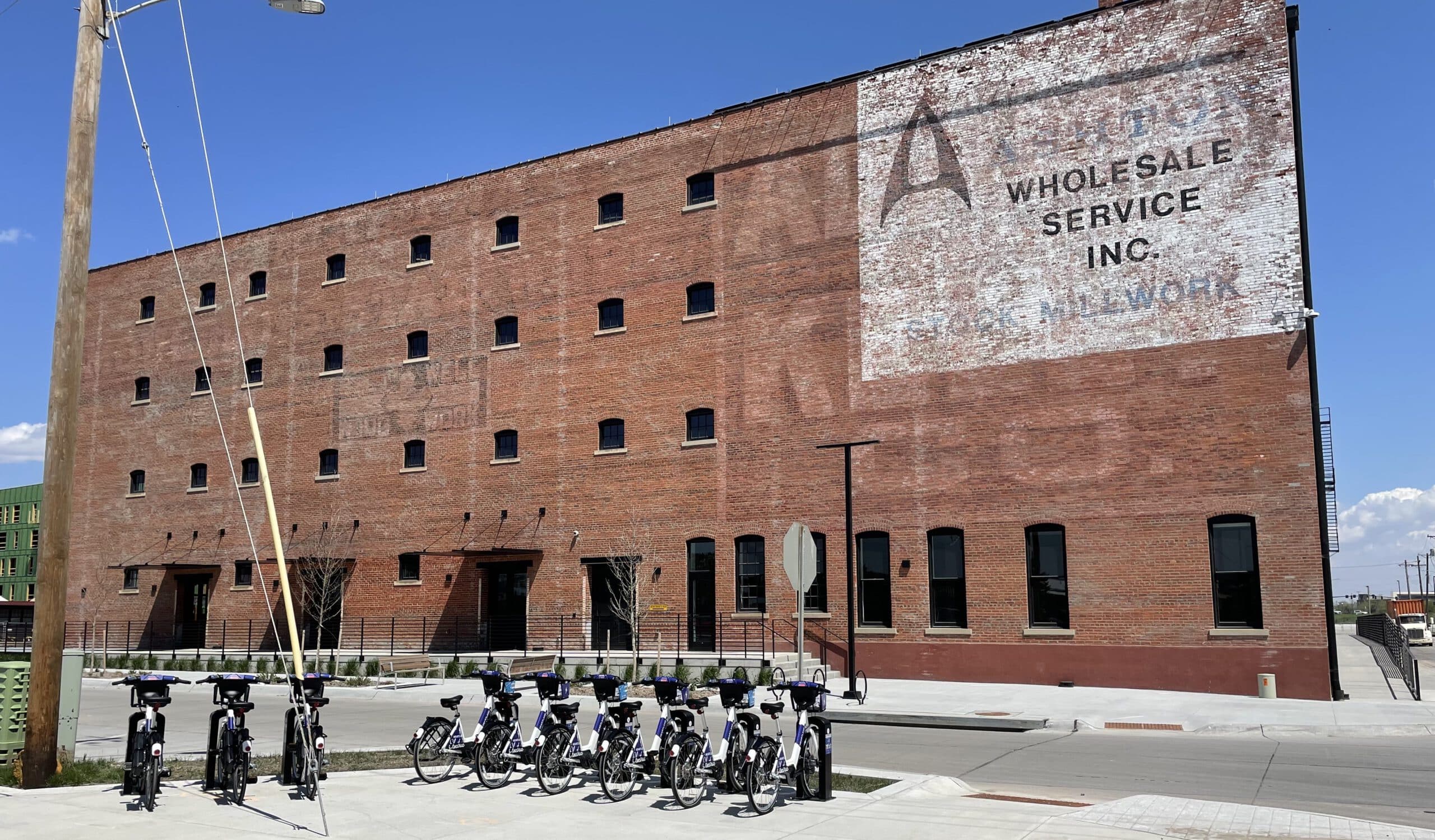 Earlier this year, we told you that Millwork Commons is busy working on a comprehensive sustainability plan with our partner Verdis Group as well as all of our partners who are helping to create the district. We're excited to share with you the goals we're working towards as a community!
First, we created this vision statement, which serves as our guide for the district's sustainability efforts:
Millwork Commons is an innovative district powered by regenerative systems and collaborative relationships. We lead today with responsible design and position our people, infrastructure, and economy for the possibilities of the future. One of the key tenets of this vision is a commitment to regenerative systems, which means not only minimizing harm to the environment, but working to ensure that our efforts ultimately serve to benefit the community and the natural world.
Next, to achieve this vision, we set goals for five key areas of environmental impact. We will work collaboratively to:
Reduce greenhouse gas emissions by 60% by 2030 – and 80% by 2050.
Reduce water consumption. To measure our reduction, we're using a "budget" equal to the amount of rainwater that falls on the area of land that Millwork Commons occupies. Our goal is to be using only 70% of this total budget by 2030.
Divert 90% of our waste by 2030 (aka reduce, reuse, recycle, or compost!).
Increase active transportation commuting to 40% – that means 40% of our community is walking, biking, carpooling, riding the bus, or adopting flexible work schedules – anything that's not driving alone in a personal vehicle.
Increase engagement in sustainability efforts across the district.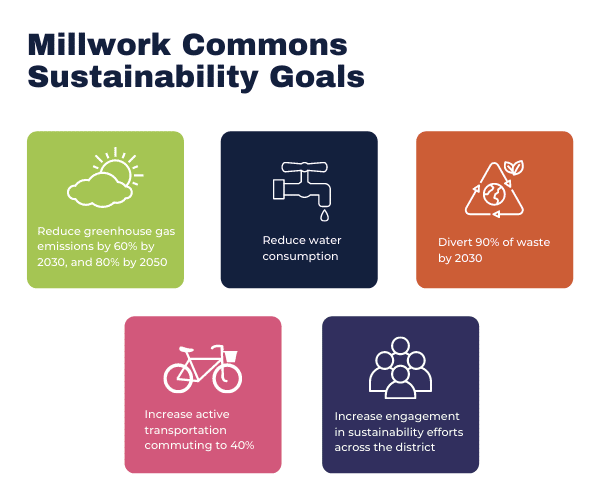 What we're doing (and encouraging) in Millwork Commons
To drive towards these goals, we're working with tenants, architects, construction teams, contractors, and other partners across the district. We recently implemented a district-wide composting program to complement our existing recycling program and have begun identifying and communicating other ways organizations and individuals in the district can participate in Millwork Commons' sustainability efforts.
These actions include everything from being mindful of individual and company use of electricity and water to thinking differently about transportation – how we get to, from, and around the district. We already have a new Omaha Metro bus stop and Heartland B-cycle bikeshare station in the district as well as a bike storage room and repair station in the Ashton. Overall, we're creating a pedestrian-friendly district that encourages walking and makes it enjoyable.
The most important part of the plan is engagement and ongoing communication with everyone who works, visits, and (eventually) lives in Millwork Commons because we can't achieve our sustainability goals without wide participation. We will be regularly reporting on our progress and will provide ways for people and organizations in the district to learn about, get involved in, and even help lead portions of the sustainability plan.
Thank you to our partner Verdis Group for helping us create our vision and set our goals. And thanks to everyone who is already doing their part in and around Millwork Commons to make the neighborhood more sustainable!
---