Open for Business: Considerations on Office Reopenings
Stories • August 27th, 2021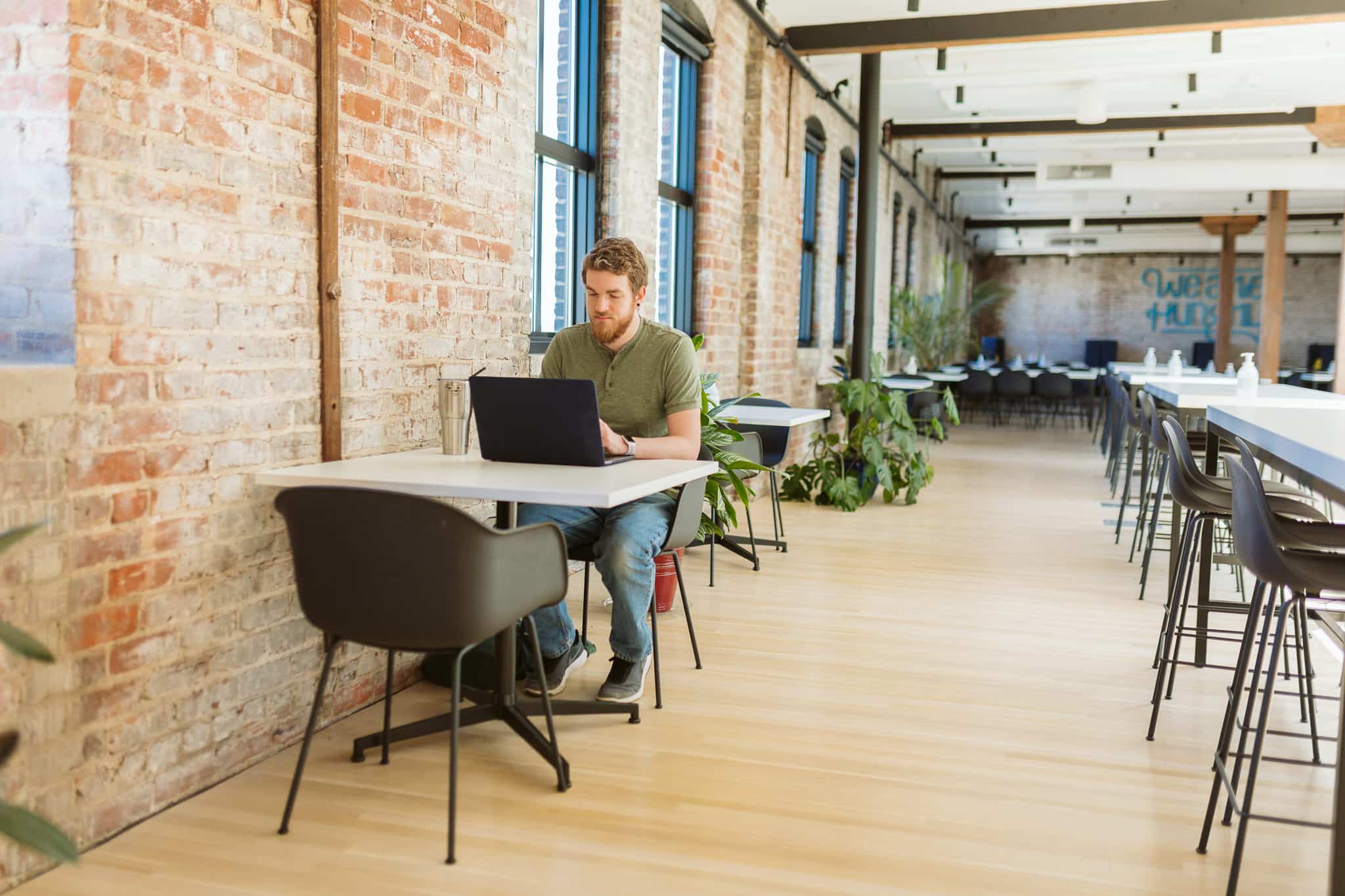 By Ben Jackson
VP of Sales and Omaha Site Leader
WP Engine
Photo courtesy of WP Engine
After more than a year at home, many of us are excited to get back into the office—and for WP Engine Omaha, that means moving into our shiny new home in the historic Ashton building. However, with a lingering pandemic and a workforce that's asking for change, there has been a lot of brainstorming about how to open a new office at such a strange time.
The first and most important thing to consider is obvious: How do we keep everyone safe? While the welcome back party of our dreams is still out of sight for now, our hybrid model approach to the workplace has presented the opportunity to take full advantage of our thoughtfully designed open concept office space.
With plenty of room to socially distance, required reservations for desks, and a brilliant team of facilities coordinators who keep things running smoothly, there are plenty of protocols we can and have implemented that allow everyone to get comfortable in the new space while keeping one another safe.
We've even rekindled partnerships with some local businesses, like Clean Slate Food Co. which has resumed catering in (pre-portioned, individually packaged) lunches for the team members who choose to work from the Ashton, Archetype Coffee which provides our caffeine, and Kros Strain Brewing Company which keeps our creative juices flowing with their amazing beer. Of course, none of this is possible without the talented and thoughtful individuals who make up our team. They're the ones who are making the good decisions that allow us to keep our office open and allow employees to safely interact again.
That, then, brings about the next thing we've had to consider—if we want to attract and retain these awesome people, how do we ensure everyone still feels included and cared for, even when they choose to stay home? For us, the answer to this question has been to continue to be creative and flexible.
Zoom gatherings and slack channels are great to an extent, but keeping camaraderie alive and thriving in your company takes more than keyboard conversations. We don't claim to have all the answers, but creating employee resource groups has been instrumental to ensuring everyone feels supported. We've also instituted wellness accounts as another way to show our appreciation to our team members for all their hard work.
So, the question of the day remains: how do you go about reopening your office during a pandemic? The decision we've come to at every level is that, at the end of the day, we trust our people to make the right decisions. That means trusting that those who choose to work from home are still doing a stellar job (because they are). That means trusting that the people who choose to come to the office are feeling their best, wearing their masks when required, and keeping each other safe.
"We've found that as we return to physical locations in-person, continuing to build seamless experiences—no matter where a person chooses to work—is absolutely key to our ongoing success," said Ben Jackson, Omaha Office Site Leader and Vice President of Sales at WP Engine. "We see our office spaces as Hubs, a place to gather, collaborate, and build relationships and create shared context. For now, we're enjoying the way our teams have responded and created these virtual communities to collaborate safely from home when we needed to."
And for us, this strategy goes beyond the end of COVID—which will hopefully be soon. It's all part of our Future of Work framework, which gives each employee the flexibility to work from wherever makes the most sense for their lives. We'll continue to trust our people to make the right decisions for themselves, their families, and their careers even after this pandemic is over, use our hybrid work model at all our global locations for the foreseeable future, and seek out new ways to support our employees from no matter where they choose to work.
Our advice for other companies looking to get "back to normal" is simple: Listen to your people and let them lead the way. They'll tell you what they need to succeed. And as for the Ashton, we're counting down the days until we can give our new space the christening it deserves!
Share