Faces of Millwork: J.P. Bergeron
Tags: Education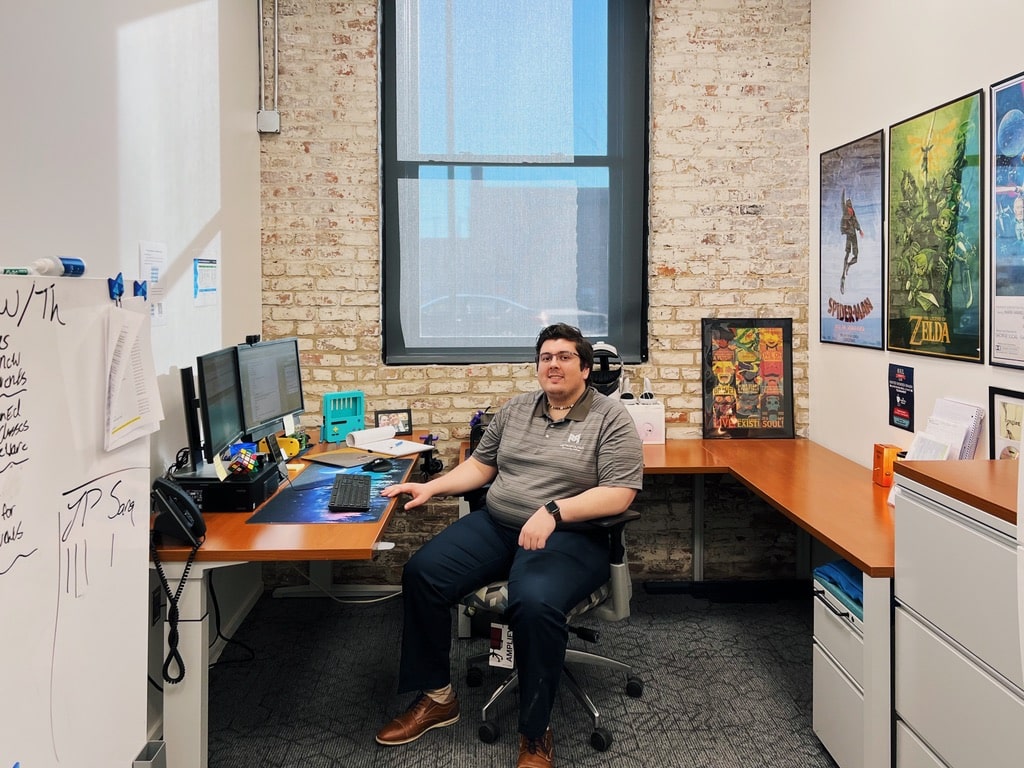 A series to feature the Faces of Millwork. From the folks that work and live in the neighborhood, to regulars that work and play in the area. This is a place to get to know them more and what makes them tick.
J.P. is a familiar face around the Ashton building. He always has a smile and is ready to show whoever is interested around. During the day he is a creator of classes at MCC and during his free time he is a co-host for a podcast about video games. He is the expert on all things about Metro Community College's Rapid IT program and Continuing Education, which is where you can always find him!
When J.P. Bergeron graduated high school, he felt as if he only had one path in life: to attend a four-year university. Though he felt he wasn't ready for the college experience, J.P. received his bachelor's degree from the University of Nebraska at Kearney in 2018. Throughout his undergraduate and graduate experiences, J.P. became passionate about higher education, and showed others that it's never too late to go back to school, or to pursue other paths outside of the traditional post-high school education route. Get the full interview below.
First off, we like to ask these three questions…
Go-to beverage or food in Millwork? Definitely Sweet Magnolia's bread pudding with caramel and the butterscotch bar.
Current song on repeat? All of My Best Friends Are Metalheads by Less Than Jake
What about Millwork Commons inspires you? The drive to continuously improve.
The Interview
Let's start with unpacking the inspiration of Millwork Commons, "the drive to continuously improve".
What exactly does that mean?
Everybody who's involved here wants to see it grow. I think that's what really makes that community feeling actually a feeling, right? Because you can say, "oh, we're a family," all day long. But it's so inspiring to see just different organizations and tons of different people with the same goal of getting people through the doors because that especially resonates with us at MCC because that's the goal of IT Express. Get more people through the doors, get more people to see our program and get more people to see how amazing this area is and how far it's come, and what it could be.
What do you like most about the Millwork Commons community, and what do you think makes it unique?
I think what I like the most about it is the variety of people that I get to talk to every day. It's such an interesting spot because it's such a catchall when it comes to [the people here]. We've got an engineering firm on the first floor. But on the other hand, the Ashton is also a community that prides itself on the art scene that we introduce and how we contribute to the Omaha arts. It's a very interesting dynamic. It's kind of like vanilla and chocolate, but at the same time, it keeps things so interesting and fun to work here. That's why I personally love working here so much. And with those different cultures, you also get different people. No matter who it is that you're connecting with, it's so rewarding. And then just being able to see them every day when you need to take a break and go outside to the little art area. I find that really rewarding and fun.
Now moving on to some questions about you.
When you're not working, what do you like to do in your free time?
I have tons of hobbies. Almost to my detriment. I'm a musician, so I play guitar on my own, but I'm also the bass player for a band. I'm a co-host of a podcast about video games. I'm looking to go back to school to get a second master's degree, and that's about to take up a lot of my time. I just like to go out to eat, I like to go out to drink just that sort of thing. Almost clinging to my college days a little bit.
As a recent college graduate, I totally get it.
What do you feel most passionate about?
Probably education, which is good considering the field that I'm in. I think education is just the key to unlocking so many different kinds of opportunities for individuals on a personal scale, but also to making everything better. There is no detriment whatsoever. There's no downfall that exists in my opinion, from having a more educated group of people. So what I'm passionate about in a lot of the work I do, particularly pertaining to education, is figuring out how we can make education more accessible, but also how we can make it more attractive.
For example, as a Continuing Education Coordinator, it's my job to create classes that MCC offers on continuing education. One class that I recently created that I'm extraordinarily excited about is called The Guide to Returning for College. And what it is, is a class that is aimed towards communities that have older students who have not had the opportunity to go back to school for a while, who want to, but are afraid to because of how education has changed compared to how it was when they were still kids.
I love it.
What would you consider to be your proudest moments?
I would say earning my bachelor's degree almost felt a little more meaningful than earning my master's for a few different reasons. But the main reason is that I was not a good student in high school at all. I was fairly smart. I just did not care. So I would end up with the Cs, the Ds, the Fs, and I would excel in a class very rarely. And it's because of this that when I made the decision to pursue my bachelor's degree, I had my parents' support, but I don't know how much anybody actually believed that I could get a degree because of my prior performance and education. So it felt a lot more meaningful getting my bachelor's degree because it almost felt like I had a lot more a lot of people that really didn't think I could do it, including myself. I didn't really think I could do it either, but I did and it made me really happy.
Awesome. I have one more question for you.
What do you hope for the future of the continuing education program at MCC or MCC in general?
I mean, my hopes for MCC, in general, are just that we continue to show people in the community who aren't necessarily ready for that four-year college experience to show them that you don't, it's not either going into a field right away or go to a four-year college. I want them to know that the opportunity to come to MCC and seek different opportunities exists. When I was leaving [high school] they made it sound like if I didn't go to a four-year college that I was a loser and that I was not going to have a future. And they scared me, very effectively, to their credit. They did such a good job that I went to a four-year college despite the fact that I was not ready and despite the fact that I had no idea what I wanted to do. And I think that's ridiculous.
My hope for MCC is that we continue to grow the brand to the point where students in this area know that, "Hey, it's not either you're a failure or [you] go to a four-year college that you might not want to go to". We have a lot of different options for you that will help you pursue something that you're passionate about and that will enable you to get your education in a way that caters better to the way you want to learn.
Learn more about Metro Community College's Continuing Education Program.









Learn more about Metro Community College's Continuing Education Program.
Share