Moving the Orange Arch to Millwork Commons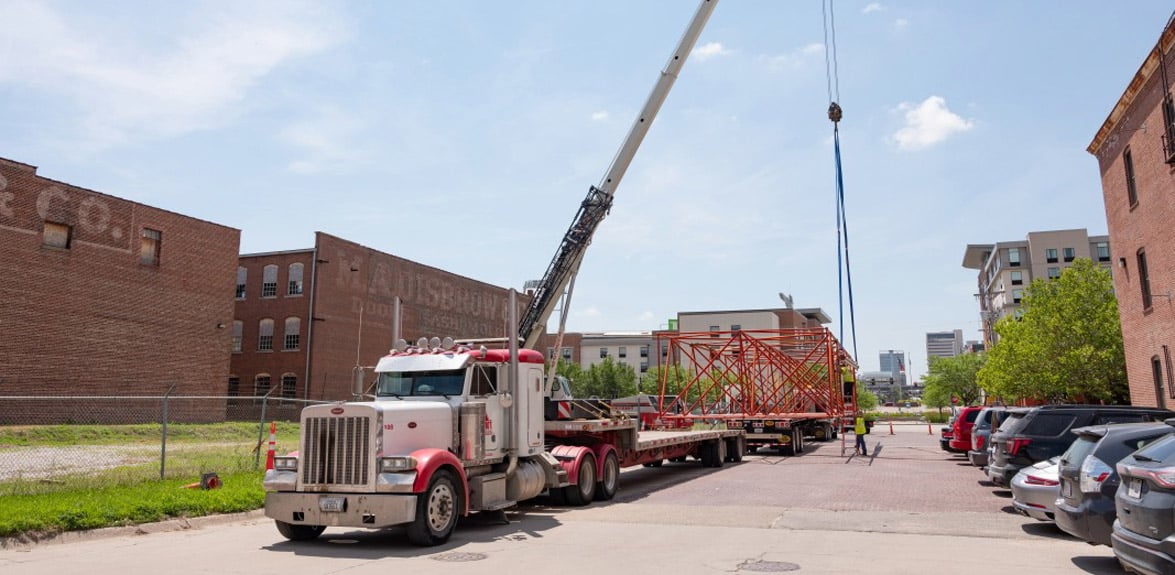 The iconic orange arch that has greeted visitors to Omaha's Gene Leahy Mall for decades was moved to Millwork Commons on July 2, 2019.
When Michael Alley of Alley Poyner Macchietto Architecture, Millwork's architectural partner, learned the arch – also known as a "space frame" – was not part of the Mall's redesign, he approached the Millwork team about saving it. All agreed there was an opportunity to repurpose a piece of Omaha history and to use the space frame as it was first intended: to mark a new beginning.
The Mall was part of the "Back to the River" movement inspired by Mayor Gene Leahy in the early 1970's, and the space frame was intended as a gateway. It was designed by Lawrence Halprin, a notable landscape architect, whose firm designed the Mall.
Moving it was no small task, but made easier and cost-efficient thanks to partners Field Day Development who worked with crews working on the Mall. The space frame is 120 feet long and was transported down 13th Street on a flatbed truck.
We have lots of ideas on how to incorporate the space frame. However, there is more planning and construction to do before it reaches its permanent home in the neighborhood. Stay tuned!
Share